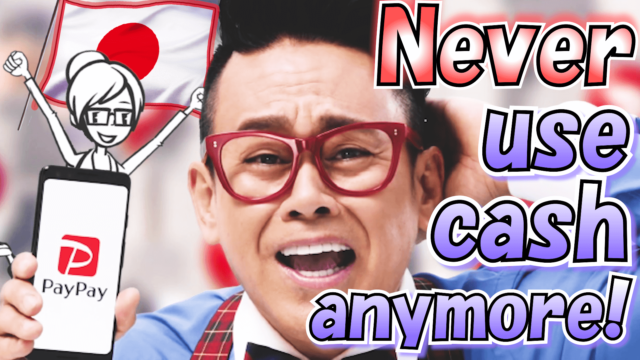 Do you pay with cashless services when shopping or going to restaurants?
It`s just too complicated to register,
I`m used to paying with cash, its easier that way.
There are so many cashless service out there, I just don`t know which one to use!
Do you still think this way and pay in cash?
To be clear, you are losing.
If you don't use cashless services, you're just wasting your money.
And that money can be thousands of yen a month.
Moreover, the benefits of cashless services are not only money.
You're wasting your time too.
If you don't use cashless services as it is, you will miss the opportunity to travel and eat delicious food.
Increasing income is not easy, but saving money is easy.
By reading this article, you will understand about Paypay, which can save you the most money and time.
Even if you are using other cashless services, you should definitely download the Paypay app.
What is Paypay?
Paypay is a smartphone app and is a QR code payment service.
This is the second most used cashless service in Japan.
If you charge the app with money in advance, you can use the app to make payments.
There are several ways to charge, but if you register a bank, you can charge online immediately.
Also, you don't have to go through a review to use the app, and you can earn points by using this app.
Chuck our official website for a more detailed overview.
5 Reasons why you should use Paypay
Paypay allows you to send money to family and friends who are using the application
You can use PayPay to send charged money to someone else's paypay.
Moreover, the remittance fee is 0 yen.
Furthermore, the balance of Paypay can be sent as cash to your own bank with a fee of 100 yen, so it is also convenient as a means of sending cash.
* You cannot send to another person's bank.
There are stores in Japan that only accept Paypay or cash payments.
As of August 2021, there are more than 3.28 million stores that can use Paypay.
And some of these stores only accept cash or paypay payment methods.
This means you won't get any points if you don't have Paypay when you shop at those stores.
The point return rate is 0.5%, and if you charge money from the Yahoo Card, it will be 1.0%.
I know many people think that 0.5% is low, but this is not the only benefit of PayPay.
But this is not the only benefit of PayPay.
Pay utility bills, and taxes, and earn points with Paypay
You can pay the utility bill and tax statement delivered to your home with paypay.
You can scan the barcode on the invoice with the app and pay immediately while you are at home.
So you don't have to go out to pay and you won't forget to pay.
In addition, you can earn points for the amount you paid on your invoice by paying with Paypay.
Most of the major utility bills accept invoices that can be paid with Paypay.
The types of taxes that can be paid vary depending on the municipality, but Paypay supports many types such as municipal tax, national health insurance premiums, car taxes, and childcare fees.
Save more when you pay with Paypay Coupons
In addition to earning points by using Paypay, there are plenty of coupons that can be used.
As for the benefit of the coupon, the payment will not be cheaper, but you will get points in about 30 days.
There are such coupons. There are "100 yen worth of points" and "20% worth of points".
If you pay 1000 yen using "20% points granted", 200 yen will be charged to your balance in 30 days.
Using coupons is very easy.
You can use the coupon at any time by selecting the one you need from the coupon list of the app and tapping the "claim coupon" button.
Therefore, you do not have to rush to find a coupon when paying, and you can enter the coupon in advance.
Thanks to this coupon system, paypay's return rate is high, but this is not the only great thing about paypay.
Super Paypay Festival: large-scale shopping event
Pyapy runs a campaign almost every month.
There are some crazy things such as "10% points will be given for shopping in the campaign" and "100% points will be given once every 10 times".
And the most amazing campaign is the Super Paypay Festival.
Paypay is most focused on this campaign, and many campaigns will be launched at the same time during this period.
The content of the campaign is different every time,
For example, in the April 2021 campaign, PayPay's point redemption rate was 20%, and in addition there were many coupons such as giving away 20% points.
As a result, the total point redemption rate sometimes exceeded 40%.
Literally this is just a festival.
Regarding the Paypay campaign, we will publish an article in English every time on this blog, so please bookmark it.
Strategies to earn more points with Paypay
There are many benefits to using Paypay.
Even if you just use Paypay without a strategy, you can shop at a good price.
But I will tell you how to use Paypay more effectively.
Use with other cashless services.
Use Yahoo! Japan card and Ymobil.
Use with other cashless services.
Paypay is a very good service, but depending on the store, different services may be better.
The reason is that depending on the store, if you pay with different cashless payments, it will be cheaper and you will get more points.
Rakuten pay is a cashless service that is as popular as Paypay.
Rakuten Pay can be used by connecting it to a Rakuten card to increase the return rate to 2.5%.
This is the legal way.
I will write an article about Rakuten Pay in the near future, so please bookmark this blog.
Use Yahoo! Japan card and Ymobile
You can receive overwhelming preferential treatment by using yahoo! Japan credit card and Ymobile, which are the same group companies of Paypay.
Ymobile and yahoo credit card users will receive preferential treatment at every campaign.
For example, the point redemption rate during the campaign period is 3% for PayPay-only users, but 20% for Ymobile users.
If you want to use Paypay more profitably, we recommend you to use both of them.
Visit our Facebook page to get updated with life hacks about money and living, making your life easier in Japan.
---
How to live in Japan - 「いいね!」45件 · 1人が話題にしています - We deliver …