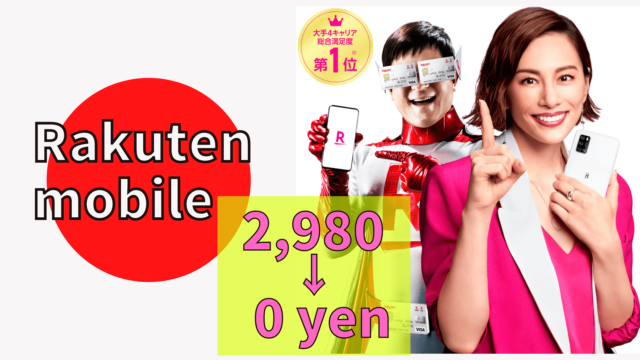 This article explains Rakuten Mobile, the most talked-about mobile company in the mobile industry.
If you read the article, you can find out why Rakuten Mobile is so popular, the pricing system, and its advantages and disadvantages.
I also have a contract with Rakuten Mobile, so I will tell you my impressions of actually using it.
What is Rakuten Mobile?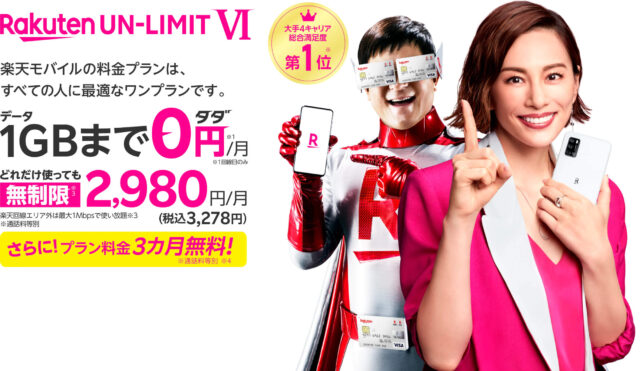 Rakuten Mobile is one of the businesses of the Rakuten Group, which has the second largest e-commerce site in Japan, Rakuten Ichiba.
The official service of Rakuten Mobile has started in April 2020.
Rakuten entered the mobile industry with an ultra-low price plan and gained a large number of customers.
First of all, I will show you how cheap the ultra-low price plan is.

Monthly Usage Fee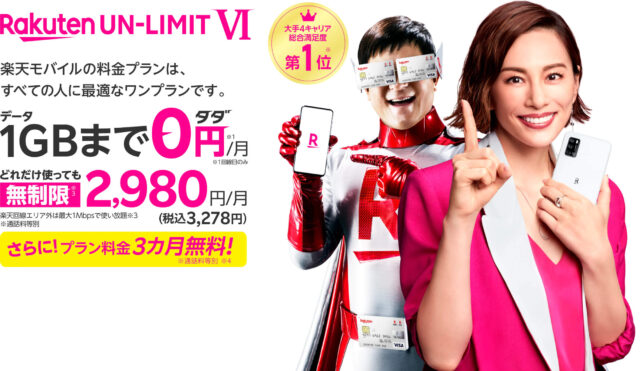 Rakuten offers only one rate plan.
It`s called "Rakuten UN-LIMIT VI".
This plan has four levels of pricing depending on data usage.
0 yen for data usage of 0 to 1 GB
980 yen for data usage of 1 to 3 GB
1980 yen for data usage of 3 to 20 GB
2980 yen for data usage of 20GB or more
If your home has an internet environment and you can use Wi-Fi, you can reduce your monthly mobile phone charge to 0 yen.
It is also popular as a mobile phone for sub use.

Call charges are free using Rakuten Link.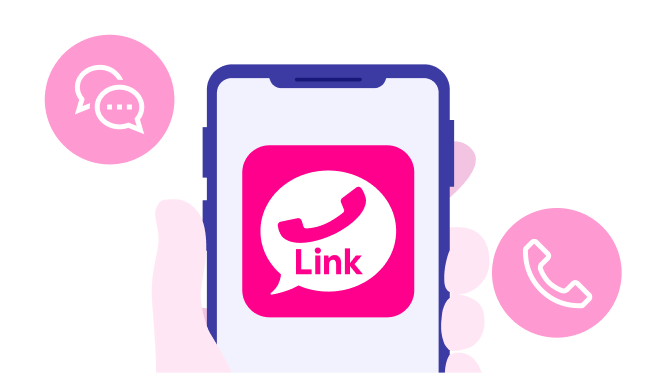 Rakuten Mobile has its own app called "Rakuten Link".
You can send and receive phone calls and SMS with this app.
If you use this app, you can use unlimited calls and SMS.
The amount of data in its use is not related to charges.
There is also no charge for calling Japan from 66 countries and regions.
Calls from Japan to those places are charged, but if you set the option of 980 yen, you can make unlimited calls.
Unlimited data capacity and unlimited high-speed communication.
Within the Rakuten area, you can use high-speed communication with unlimited data capacity.
Of course there is no speed limit.
With smartphone plans of other companies, the upper limit of monthly data amount is set, and if the upper limit is exceeded, the communication speed will be limited to a maximum of 1 Mbps.
In the case of Rakuten Mobile, the communication speed may be limited depending on how it is used, but there is no problem as long as it is used within the Rakuten area.
There are many campaigns.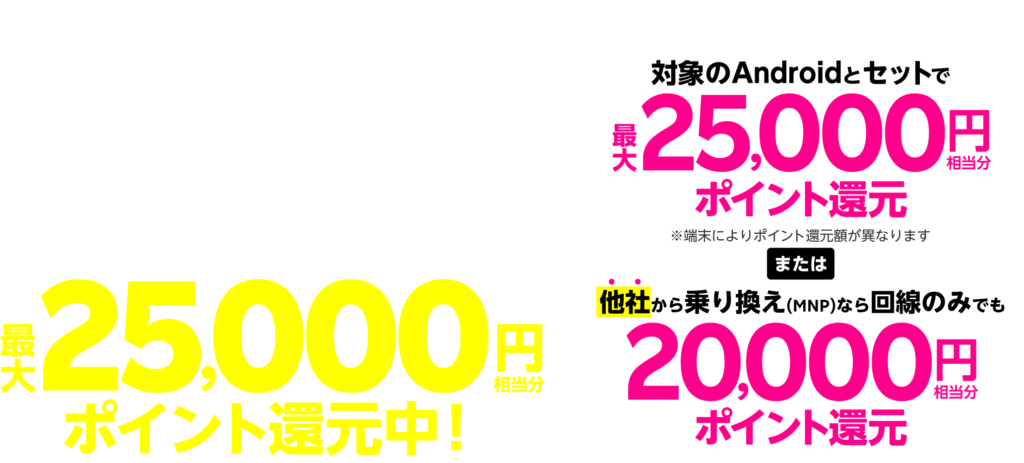 Rakuten Mobile always has a lot of campaigns.
for example,
A campaign where you can get 20,000 yen worth of Rakuten points by switching mobile phones from other companies.
A campaign where you can get 25,000 yen worth of Rakuten points by buying a smartphone at the time of contract.
A campaign where new contracts are free for the first few months.
Free campaign.
With Rakuten Mobile, you can get free for 3 months by signing up.
This campaign is running as of July.
And this campaign will probably last for a while.
Until March 2021, there was a one-year free campaign, but Rakuten probably won't do it anymore.
I don't know how long there will be a 3-month free campaign, so if you are willing to contract, apply early.
There are no restrictions on the contract period and no penalties.
The penalty for canceling Rakuten Mobile is 0 yen.
Also, since there is no fixed contract period, you can change to another mobile company at any time.
Many mobile companies in Japan only have a two-year contract.
With a two-year contract, you can cancel the contract for free only once every two years for one month.
Therefore, most people pay a penalty when changing mobile companies.
Free tethering.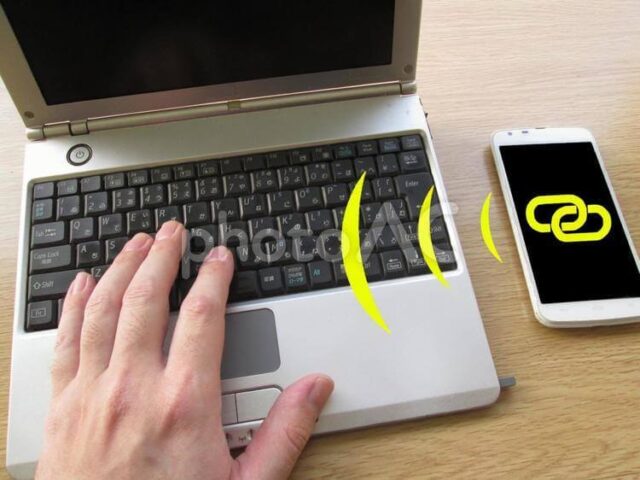 With Rakuten Mobile, you do not need to apply for tethering to use it for free.
If you are in the Rakuten line area, you can use your smartphone instead of a mobile router with unlimited data.
Tethering is a way of turning your phone into a mobile hotspot or portable wi-fi router.
You can use this Wi-fi to bring your tablet laptop online.
Many mobile companies require an application or optional fee to tether on a smartphone, but Rakuten Mobile does not.
楽天モバイル公式。料金プラン「Rakuten最強プラン」は、データ高速無制限エリアが超拡大で、日本全国の通信エリアで高速…
株式会社エルピオ
Rakuten Ichiba, the second largest EC site in Japan, has a popular system called "SPU".
SPU or Super Point Up.
With this system, the more you use Rakuten's services, the more points you can earn when shopping at Rakuten Ichiba.
For example, Rakuten members are + 1%, and Rakuten credit cards are + 2%.
If you sign up for Rakuten Mobile, you can get a + 1% benefit.
If you use the SPU system well, you can get points of + 8% or more, so you can shop at a good price.
You can get internet at home for free for a year.
One of the services provided by Rakuten Group is the internet connection.
It's called "Rakuten hikari".
As of August 2021, if you apply for Rakuten Hikari and Rakuten Mobile, Rakuten Hikari will be free for one year.
The internet connection fee in Japan is about 4,000 yen a month.
It costs 48,000 yen for 12 months. This is a big savings.
When applying to Rakuten Hikari, check the conditions of the free campaign carefully.
Points to note.
Rakuten Mobile has many good points, but it also has bad points.
High-speed communication up to 5GB is possible outside the Rakuten line area.
There are two types of areas where Rakuten Mobile can be used.
Rakuten line area and partner line area.
Rakuten is still a new company, so not many areas are covered by the Rakuten Line.
Therefore, Rakuten rents lines from major mobile companies such as AU and DoCoMo.
Rakuten Mobile users can use unlimited high-speed communication in the Rakuten line area.
However, in the partner line area, if you communicate over 5GB, the communication will be limited and the maximum communication speed will be 1Mbps.
As of May 2021, it is 88.6% of the Rakuten line area.
There is an area outside the service area.
The major weakness of the Rakuten area is the poor radio waves.
Radio waves seem to be good to some extent in big cities such as Tokyo, Osaka, and Aichi.
However, even those big cities can go out of service.
I live in Aichi.
I usually use my smartphone instead of a car navigation system, but the radio waves sometimes go out of service.
Even in Aichi, when I went to Don Quijote in the city, the radio waves were out of range in the store, I couldn't search on the Internet, and I couldn't make electronic payments on my mobile phone.
Of course, there are radio waves in most areas, but it is a painful point for foreigners.
If you are uncertain about the contract due to bad radio waves, it is a good idea to contract as a sub smartphone.
According to Rakuten's announcement, the Rakuten line area will be expanded to 96% by March 2021.
Calls that do not use the Rakuten app are charged.
As I told you, Rakuten Mobile will not be free of charge unless you use a dedicated app.
The dedicated app is named Rakuten Link.
If you make a call without using this app, it will cost 22 yen in 30 seconds.
You may be charged if you make a call from your browser or the phone number link on Google map.
Make sure you know what app you are using when you call.
Recommended for any person.
Rakuten Mobile has good and bad points.
What kind of person is the Rakuten Mobile suitable for?
People who are living in the Rakuten Line Area
If you live in the Rakuten line area, you may not feel much disadvantage.
Good for people living in big cities.
Those who want to contract with a cheap mobile company
The cheapness of Rakuten Mobile is overwhelming.
It is not difficult to keep the cost to 0 yen just by devising how to use the mobile phone.
Rakuten user
If you often shop at Rakuten, Rakuten Mobile is recommended.
You can get more points by shopping at Rakuten, and you can also use Rakuten points to pay for Rakuten Mobile.
Summary
What are your thoughts about this new Rakuten Mobile Service?
Finally, let's review the contents of this article.
Rakuten Mobile is very cheap.
The monthly fee changes depending on the amount of data used, and it is possible to set it to 0 yen.
It always run many campaigns.
Campaign to get many points with new contract
Free campaign for 3 months with new contract
Free tethering
Radio waves are not very good
Now, Rakuten Mobile's customers are increasing very much.
In addition, the Rakuten line area is scheduled to reach 96% by March 2021.
You can make a contract with your main smartphone or sub smartphone.