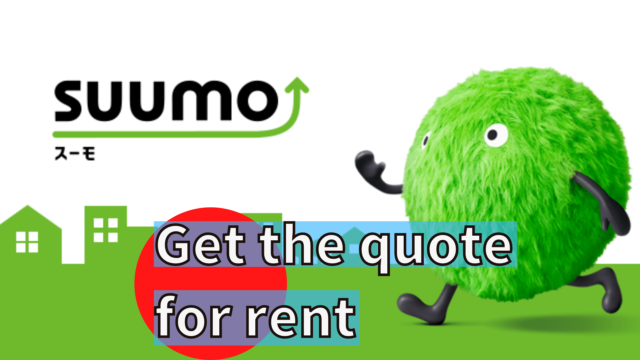 It is very effective to get an estimate of the upfront cost in order to make a cheap rental contract.
I will tell you how you request quote from multiple companies at once.
You can use "SUUMO" a website for searching rental apartment.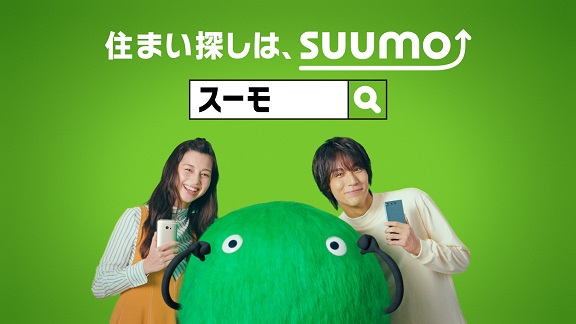 SUUMO is a property information site where various real estate companies post property information.
If you are looking for a rental property, it is recommended to use this one.
How to request quote for rent
If you follow the instructions in this article, you will definitely get a quote.
I download the SUUMO App for Iphone, also available for Android users.
1. Download the "SUUMO" app.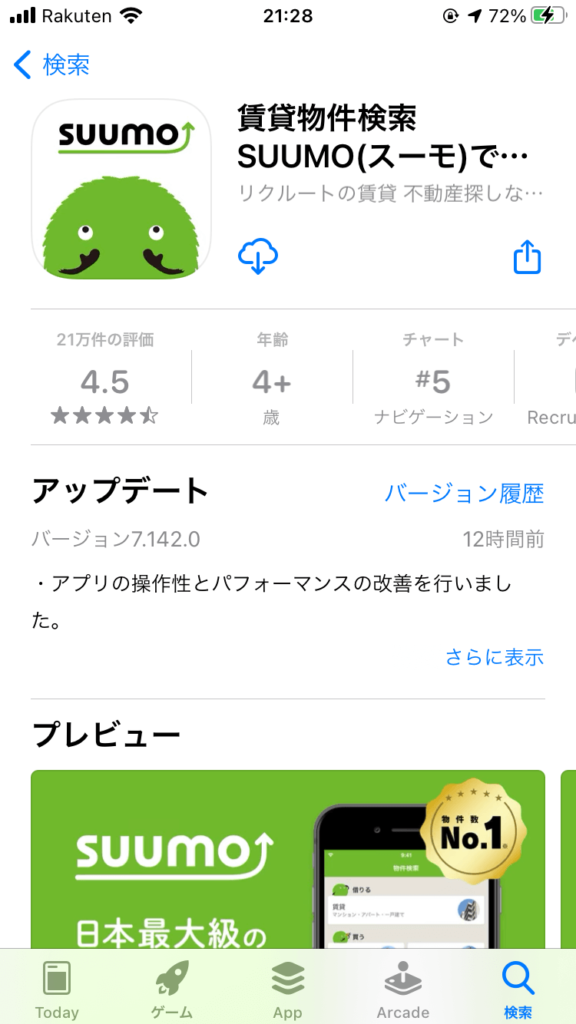 Download SUUMO for Iphone User, here.
Download SUUMO for Android User, here.
2. Find a property that suits your needs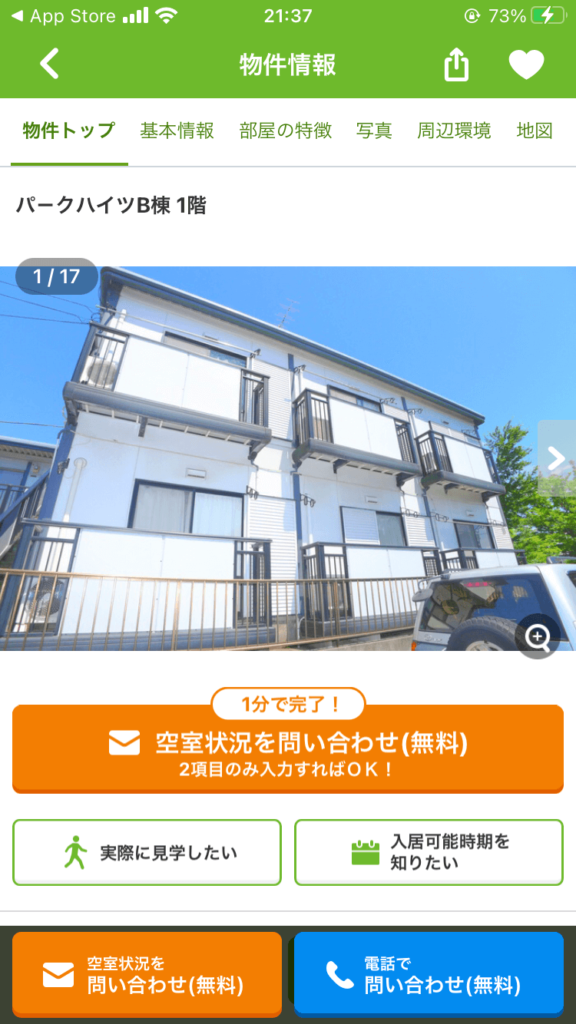 First, go to the page of the property for which you want a quote.
3. Find the list of real estate companies that offers the property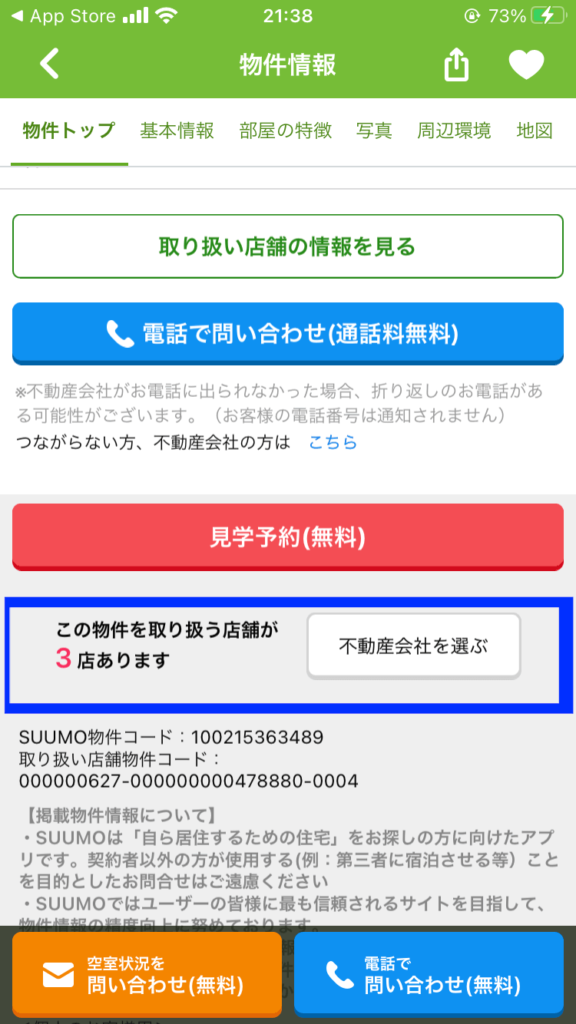 When you reach the property page, scroll to the gray background.
The Japanese word "この物件を取り扱う店舗が3店あります" written in the blue frame.
It means "You can contact 3 real estates from this page".
Click the "不動産を選ぶ" button in the blue frame to select the real estate company to inquire.
Caution! If there is no "不動産を選ぶ" button.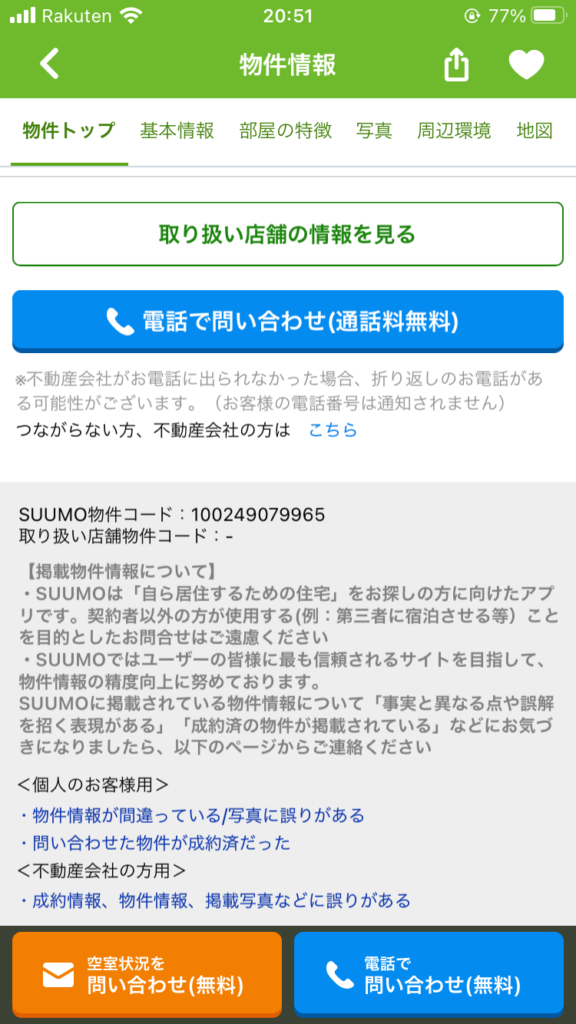 If this button doesn`t appear, there may be two possible reasons.
A Only one real estate company handles the property
B There are other property pages.
A. Only one real estate company handles the property
Although it is less than 10% of the total number of real estate, there are some properties that are handled by only one real estate company once in a while.
It is basically more difficult to negotiate costs for such properties than others.
But if you really like the property, tap the green button at the top of the property page to get an upfront cost quote.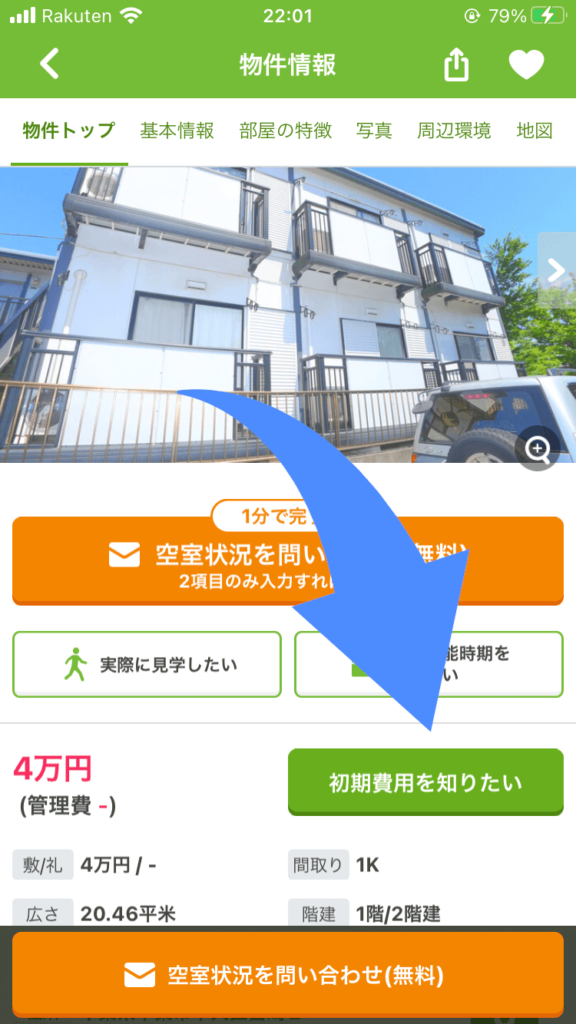 B, There are other property pages.
When you are looking for a property on SUUMO, the same property may be offered on several pages.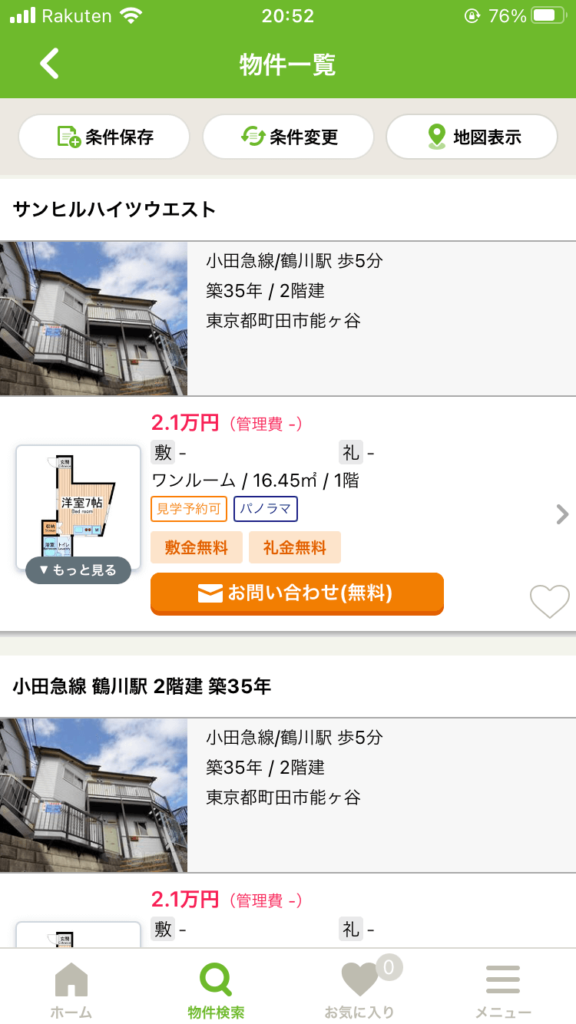 Even if the page titles are different, such as "building name" and "○○ 3LDK 1st floor", the properties that are being recruited are the same.
Each page has a different list of real estate companies, so request an upfront cost quote on each page.
4. Check the checkboxes of all real estate companies.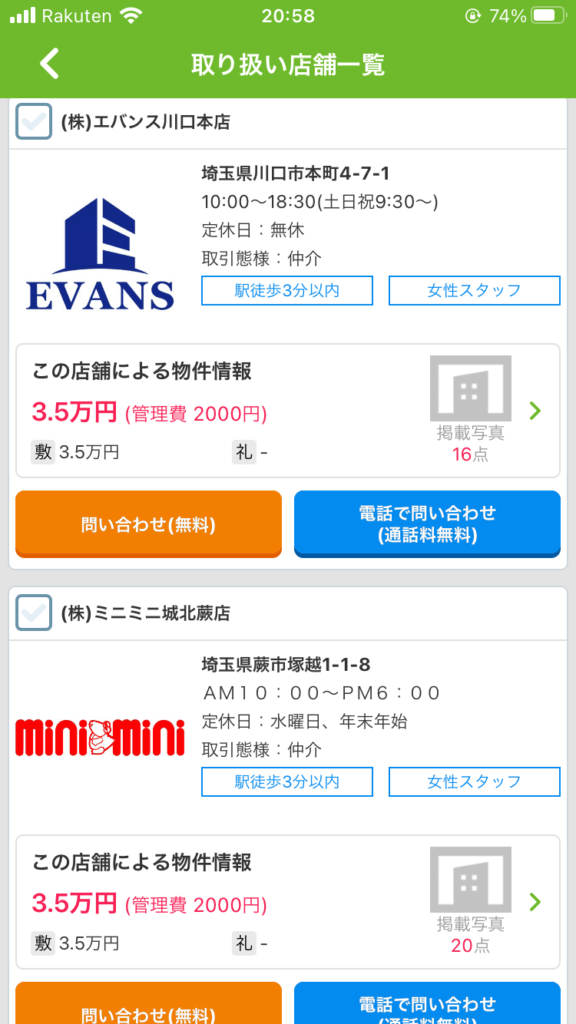 After tapping the "不動産会社を選ぶ" button, a list of real estate companies will appear.
Check the checkbox of the company you want to contact.
It is better to inquire as many real estates as possible, so check all the check boxes. This is because the amount of upfront cost is different for each real estate.
You can only inquire about 6 real estates at a time.
If you want to inquire more than 7 real estates, You can inquire those in two times.
After checking the check box, click the "まとめて問い合わせ" button.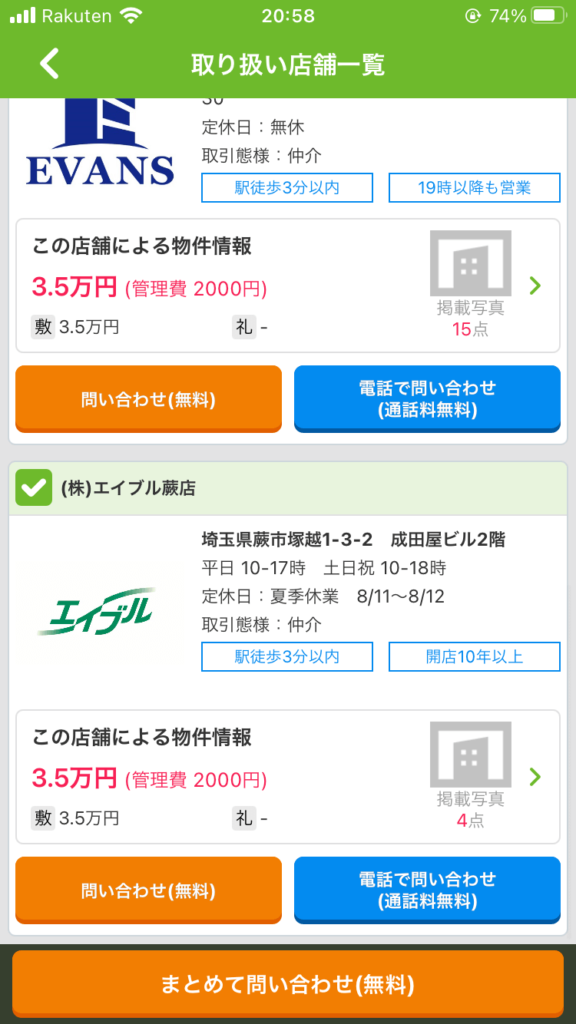 5. Input of inquiry content
The next page will be displayed differently depending on whether the inquiry is made for the first time or after the second time.
In case of first time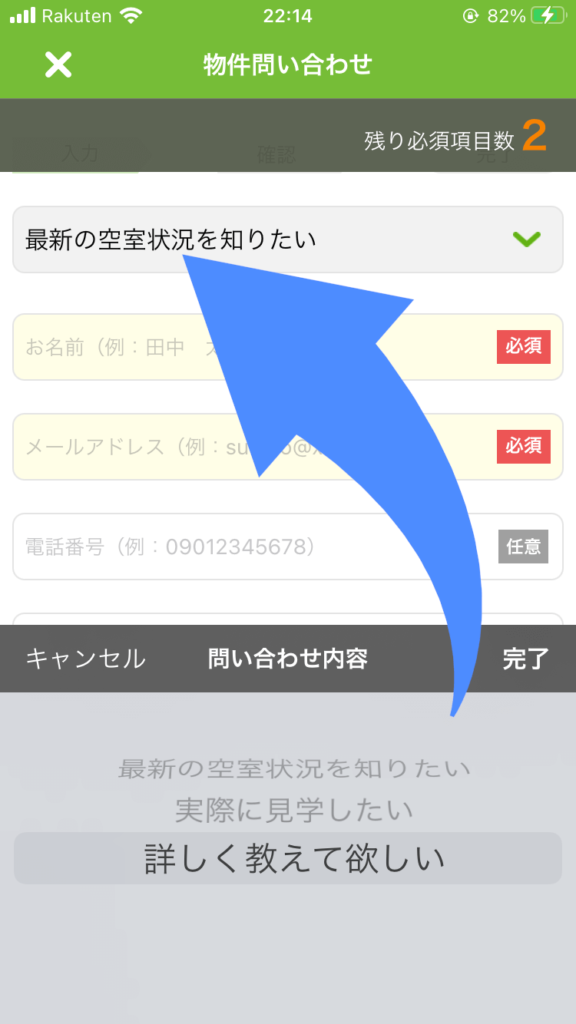 Tap the gray button to "詳しく教えて欲しい".
Enter your name and email address in the second and third boxes.
In the fourth box, where "その他のご要望" is written, type "みつもりしょをおねがいします" in Japanese, meaning `Please send me a quotation.`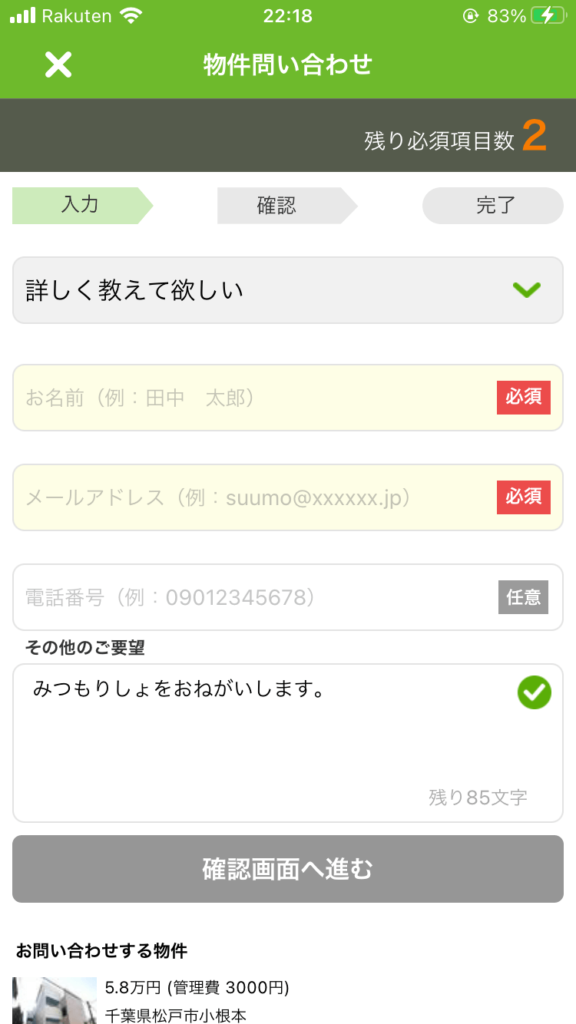 If you cannot input Japanese, please copy and paste.
Go to the next page for confirmation.
In case of second time
If this is not the first time you have made an inquiry, the name and email address will be omitted and the confirmation screen will appear from the beginning.
tap the "修正する" button and enter "みつもりしょをおねがいします"
6. Inquiry completed
When you go to the next confirmation screen, the inquiry is completed.
Within a few days, each company will send you a quote by email.
You can compare the quotes and find a cheaper real estate, or you can go to your real estate company and negotiate based on the quotes of other real estate companies.
Summary
It is very effective to get a quote for the upfront cost to rent an apartment cheaply.
Once you learn how to make an inquiry, it's so easy that you can make an inquiry within a minute.
Please try it.